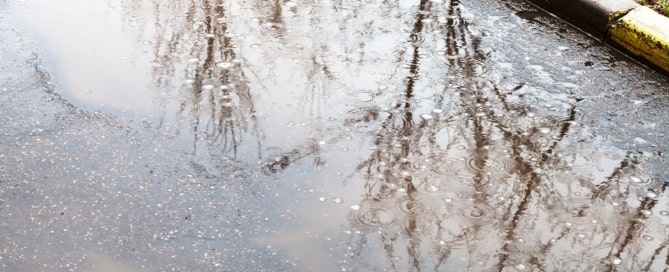 Trees offer countless environmental benefits. For example, they cleanse the air by producing oxygen and absorbing carbon dioxide. They also provide homes and food for animals like birds and squirrels. Needless to say, trees can bring immense value and advantages to a natural landscape.
But the benefits of trees don't stop there. Trees also retain and reduce stormwater runoff, one of the biggest issues of urban and suburban areas. This means they can play a significant role in protecting the local environment.
Why Is Stormwater Runoff an Issue?
We all know rain is important. It replenishes our water sources, "feeds" rivers and lakes, and keeps our grass green and healthy. Rain also provides essential nutrients for agricultural crops and beautiful trees.
The problem is when rain becomes stormwater runoff. This happens when rainfall or melting snow flows over paved surfaces like roads, parking lots, and driveways. Since these surfaces are impermeable, they don't soak up water. The result is a large volume of water flowing over ground surfaces.
Here's why this can be bad news:
Flooding and Erosion
If rapid runoff flows into bodies of water, it can disrupt the natural flow and damage local animal habitats. It can also worsen the severity of flooding in urban and suburban neighborhoods.
Sewage Problems
Stormwater runoff can overwhelm local sewage systems, which are full of harmful pathogens and heavy metals. This presents serious public health concerns.
Pollution
When stormwater passes over paved surfaces, it picks up pollutants like pesticides, pet waste, lawn fertilizer, and byproducts from construction sites. The water then pushes these pollutants into local streams and rivers.
Excess Sediment

Similarly, fast-moving runoff forces sediment and residue into bodies of water. This can destroy natural habitats and block sunlight from underwater plant life.
Trees and Stormwater Runoff
While paved surfaces don't mix well with rainfall, they're essential components of developed neighborhoods. It'd be difficult to travel around town without surfaces like roads and sidewalks.
The solution? Plant new trees and take care of existing ones. Aside from beautifying our properties and streets, trees can manage stormwater runoff.
They can:
Retain Water
A tree provides a surface for rain to land on. Specifically, its leaves and bark can "intercept" and retain rainfall. This water will then evaporate or end up in the soil.
Decrease Erosion
Likewise, tree canopies intercept rainfall and reduce the risk of erosion.
Absorb Moisture
Water can also collect on fallen leaves. Eventually, the moisture will permeate the soil instead of flowing over paved surfaces.
Roots also absorb the water and aerate the soil, which soaks up moisture. This reduces the accumulation of runoff after a storm.
Plant New Trees and Reduce Stormwater Runoff
You can't control the weather, but you can control how your property handles heavy rainfall. That's why it's important to plant trees to retain and reduce stormwater runoff.
However, managing runoff doesn't stop at planting new trees. It also involves taking care of the trees you already have. By keeping your existing trees healthy, you can do your part in reducing stormwater runoff.
Friendly Tree is here to help. As a team of certified arborists, we offer professional tree planting services in New Jersey. We also know what it takes to help trees thrive and flourish.
To get a quote or schedule a consultation, contact Friendly Tree at (973) 678-8888.