Tree Cranes & Cherry Pickers

If your property is suffering from an overgrowth of trees, our crane and bucket service can quickly and safely remove them.
Trees can enhance the appearance of your landscape, or they can cause a headache as they clutter your yard. Friendly Tree Service offers a professional crane and bucket service and a wide variety of tree services, including tree removal, tree pruning, stump grinding and lightning protection. For more than 25 years, we've been known as the arborists you can trust, and we always deliver friendly service … with a smile! Gain peace of mind with our crane and bucket service and get rid of that undesirable tree today.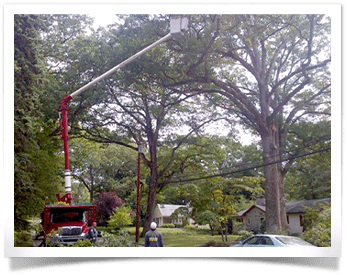 You may be wondering how our crane and bucket service works. Once you call Friendly Tree Service for a consultation, one of our skilled arborists will come to your residence or business to assess your tree removal needs and determine which of our state-of-the-art machinery can best handle the job. Our professional crane operators are highly skilled in maneuvering the equipment around tight areas, and the reach of our crane is much higher than an ordinary ladder. Our arborists are experts in the crane and bucket process. We are licensed and insured and safety is our chief concern in all of our tree services.
Another component of our crane and bucket service is our bucket truck service. This is a fast and highly effective way to remove an unwanted tree. By using a bucket truck – also known as a boom lift or a basket crane – our operators can gain easy access to most tree tops. Our crane and bucket service completes the job in much less time than you would expend by using a hand saw.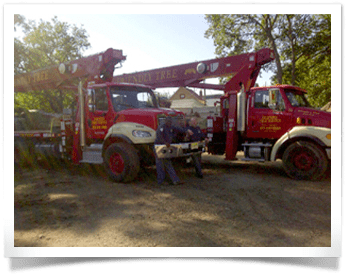 Don't live with unsightly trees in your yard another day. Friendly Tree Services crane and bucket service will quickly and safely remove these eyesores. We offer competitive pricing and will provide you with excellent references from our satisfied customers. Give our professional team a call at (973) 678-8888 and take advantage of our crane and bucket service today.