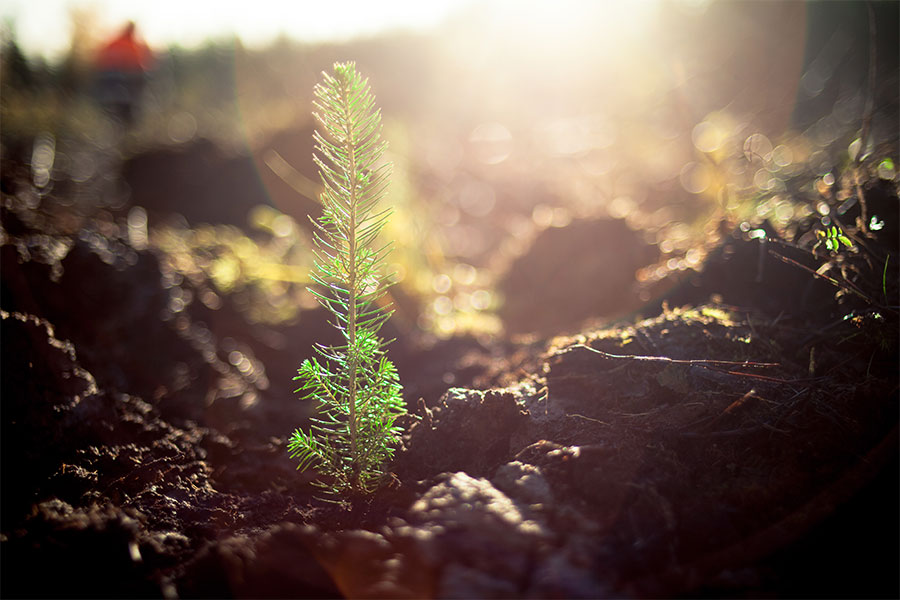 With Earth Day just around the corner, tree planting is on the horizon for many home and property owners in New Jersey. Did you know that the best way to ensure your new tree's long-term health and happiness is with a good start? In this article, we'll explain how to avoid the most common tree planting mistakes.
When it comes to tree planting, there is a right way and a wrong way. Improper planting methods may set your tree up for poor growth and future structural problems. Following proper methods will allow it to reach its full potential and ultimately, require less maintenance and troubleshooting later on.
Are You Making These 5 Common Tree Planting Mistakes?
Tree Planting Mistake #1. Planting Too Deep
Planting too deep is a common reason for tree decline. In fact, one study found that more than 90 percent of professionally planted trees were planted too deep. Burying the tree's root collar, either by planting it too deep or by volcano mulching, can cause reduced growth, defoliation, leaf yellowing, girdling roots, branch dieback and even tree death.
Although the tree may seem fine at first, these symptoms can take years to appear. If your tree's flare is covered – and if it resembles a telephone pole in the ground – it's buried too deep.
What to do Instead:  A good rule of thumb is to never dig the planting hole deeper than the height of the tree's root ball. Keep the tree's root flare exposed and keep mulch away from the base of the tree.
Tree Planting Mistake #2. Digging a Hole Too Small
On the other side of the coin is the width of the planting hole. It can be tempting to dig a hole the width of the tree's root ball – after all, digging is hard work! But planting a tree in a hole that's too small stifles the growth of new roots and and doesn't allow them to take hold in the soil as it continues to grow. Newly planted trees in small holes are less stable and have a hard time building a robust root system. Trees in this situation are easily blown over in storms.
What to Do Instead:  When it comes to the width of the planting hole, here's where you'll want to go big. Dig a shallow hole that is two to three times wider than the root ball. While it may take more time and energy, it's worth it to create a planting site which will allow your tree's roots to spread, and will result in fewer problems down the road.
Tree Planting Mistake #3. Planting the Wrong Time of Year
While it may be tempting to take care of all your landscaping tasks in the summer when the sun is shining and the grass is green, summer is one of the worst times to plant a young tree. The summer's heat can cause extra stress, which makes trees more susceptible to pests and disease (both of which are more active in the warmer months). On the other hand, planting just before freezing temperatures hit can also stress your new tree.
What to do Instead:  Spring (after the risk of a hard frost has passed) and fall, especially, are both great times for tree planting in New Jersey. Moderate temperatures, warm soil and cool nights ease a newly planted tree into its new environment and limit potential stressors.
Tree Planting Mistake #4. Choosing the Wrong Planting Site
Now, here's where the phrase, "Bloom where you are planted" just doesn't work. Trees have very specific growing requirements and can't be expected to simply grow anywhere.
Trees requiring full sun will not do well in another tree's shade, or on the north side of a large structure. Trees with high water needs may suffer if they are planted on a slope, where water easily drains off. All trees have their favorite soil type, and many are sensitive to cold or hot temperatures.
Another commonly overlooked factor is planting a tree too close to structures, sidewalks or driveways. It may look little now, but your tree will develop an extensive root system and some species can grow very quickly. You could end up running into problems with power lines or plumbing.
What to do Instead:  Do your due diligence and research your property's soil type, soil chemistry, drainage and hardiness zone. Then, choose a tree that is looking for the same things. Before digging, always provide plenty of clearance for power lines and structures, and call your utility company to mark underground lines.
Tree Planting Mistake #5. Improper Watering
This may come as a surprise, but more newly planted trees die from overwatering than not enough water. In clay soils, especially, drainage can suffocate the tree's roots. Improper watering can drown your young tree, or cause it to dry out in the hottest part of the summer. And, believe it or not, trees also require water in the winter, especially those that were planted the season prior.
What to do Instead:  The rule of thumb for watering trees is slow, deep and infrequent. Water your tree at planting, again the next day, and then every three days for the next couple of weeks. Once established, trees should be watered to a depth of one foot at the drip line. Water more often during the summer and dry spells, and keep in mind your soil type when watering. Clay soil needs longer watering intervals because it absorbs water poorly, while sandy soil needs shorter intervals more often. Don't forget to water your tree during dry spells in the winter; even though your tree is dormant, it still requires water to survive.
A new tree is an investment, and cutting corners during tree planting may prove to be very costly later on. If you're not sure where to start, give us a call.
Friendly Tree Service has been planting trees in New Jersey for 27 years. We hand pick trees from our specialized growers from around the country and can help you select the best type of tree for your landscape, deliver it safely to your property and plant it properly for long-term success. We offer not just a survival guarantee, but a thrive guarantee!